Commercial Water Damage Restoration in Truckee
When your commercial property is damaged, you cannot afford to wait for restoration services. Your property represents your livelihood and your brand. It must be a refuge not only for you and your employees, but for your customers as well. Damage to your property is damage to your career.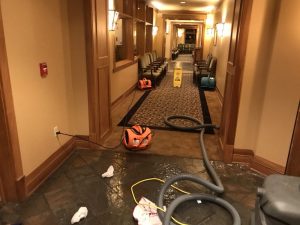 At 911 Restoration, we understand the urgency of your situation, whether you're dealing with a property flood, smoke damage, mold contamination, or any other disaster. As a locally owned and operated company, we deeply value the businesses that make our community great. That's why you can count on us for fast commercial restoration service that meets your high standards.

You can reach our commercial restoration team for emergency service 24 hours a day, every single day of the year. We guarantee an arrival time of 45 minutes or less, and our technicians work swiftly to minimize damages. Every member of our staff has undergone extensive training to bring you the very best service. They are IICRC certified and prepared for every eventuality. 911 Restoration of Truckee is licensed, bonded, and insured.
Our goal is not just to get you up and running again, but to set you up for long-term success with a property that feels brand new. We handle every aspect of commercial restoration, including structural repairs and mold remediation. We work with you to keep costs low. That includes our free insurance consultation and claim filing assistance.
At 911 Restoration, we are grateful to businesses like you for helping our community thrive. Let us support you with prompt, expert commercial restoration in any disaster. Call 911 Restoration of Truckee today.
Certified Commercial Restoration in Truckee and Beyond
You didn't get where you are today by settling. You've always demanded the best from yourself and from your staff. When your commercial property is in crisis, choose the company who is equipped to rise to your high expectations.
Our IICRC certified commercial restoration crew has completed rigorous training in a wide range of services. They cover all restoration areas including fire cleanup, puffback cleanup, water damage restoration, mold remediation, sewage restoration, and disaster restoration. We equip our technicians to handle even dangerous disasters safely. They arrive at your business prepared to provide comprehensive service. That means they don't just remove soot or dry your property after water damage. They repair every damaged or stained structure, whether it's your roof, your wall, or your floors.
One of the most common services we provide is water damage restoration. This is because water damage takes so many forms. Water may enter your property through natural disasters, storms, sewage backups, fire hose floods, etc. Our commercial disaster restoration technicians provide complete relief from any water damage episode. They work swiftly to extract water and dry the space completely. They conduct structural testing to ensure your business is still sound. If they discover a problem, they make all necessary repairs personally. They also handle mold inspection and mold removal themselves.
No matter what you've been through, you'll find your best ally in 911 Restoration. For expert commercial restoration in Truckee and the surrounding area, call us today.
Free Commercial Restoration Insurance Consultation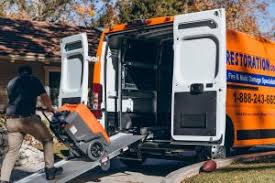 Dealing with insurance is one of the most loathsome aspects of running a business. And insurance is even more complicated when you're trying to determine the potential costs of commercial restoration. It's not always clear which services your provider pays for.
911 Restoration of Truckee works with all insurance providers. We also work with you to make sure you know what to expect as you enter the commercial restoration process. You already have so much on your plate when you're dealing with a property disaster. When you're doing your best to keep your business up and running, you can't afford to spend hours combing through an insurance policy. And thanks to 911 Restoration, you don't have to. A member of our commercial restoration staff sits down with you for a free insurance consultation. They explain which services are covered by your policy, so you can plan for any expenses that fall to you. You don't even have to handle inventory listing and loss itemization alone. Our experts assist you through the tedious paperwork and they file a claim on your behalf. Finally, we bill your provider directly, taking the burden of insurance completely out of your hands. We believe that if you're not responsible for a payment, you shouldn't have to think about it.
There is so much at stake when your commercial property falls victim to a disaster. But you can trust us to treat your business as if it were our own. For the very best commercial restoration in Truckee and beyond, call 911 Restoration today.