Crime Scene Cleanup in Truckee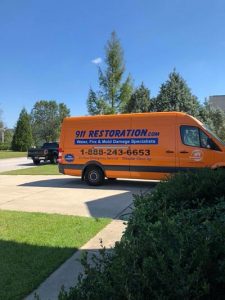 You call 911 for first-responders after a crime of homicide, suicide, or an accident. When the police and paramedics are finished with their job, it's time to call 911 Restoration Truckee to do their job. We are a locally owned and operated restoration company supported by a nationwide leader with over 35 years of experience. 
Licensed, Bonded, and Insured
Our licensed, bonded, and insured team arrives within 45 minutes in our standard company vehicle. Let 911 Restoration Truckee take care of the dangerous task of removing blood stains, bodily fluids, and other substances from your residential or commercial property. You deserve to have the time to recover from the trauma of recent events.
911 Restoration Truckee uses state-of-the-art equipment to remove stains, bacteria, pathogens, and other biohazards that are dangerous to people and animals. Our technicians are IICRC certified and highly trained in deep cleaning,  and antibacterial treatment. 
911 Restoration in Truckee accepts all insurance companies, and even files with insurers directly. This saves you time and frustration because each insurance company has its own requirements and standards. Our team manages the insurance claim process for you. 
No matter what time of day or night you need crime scene remediation, call 911 Restoration Truckee 24/7/365. We want to help you through this difficult time. 
Biohazards Make Crime Scene Cleanup a Job for Professionals
Crime or trauma scenes have biohazard materials including blood and bodily fluids. If these elements are not cleaned properly, they may spread through the air or in porous materials, such as carpeting, drapes, and furniture. 
Property owners may not have the proper equipment to clean up after a crime or biowaste accident. Our crime scene crews have personal protective equipment to protect themselves and our customers from dangerous bacteria or pathogens. 
911 Restoration Truckee uses powerful but eco-friendly cleaners and disinfectants. We are certified by the Environmental Protection Agency (EPA) because we restore safe conditions to your property without using toxins. Our team follows biohazard and Covid-19 protocols as recommended by the Centers for Disease Control and Prevention (CDC). 
You have the peace of mind that comes from highly trained and caring professionals who remove every last trace of this unpleasant event. Only 911 Restoration Truckee offers you the comfort of our Fresh Start promise — your property will be restored and rejuvenated to an even better condition than before. 
Fast Response with Compassionate Service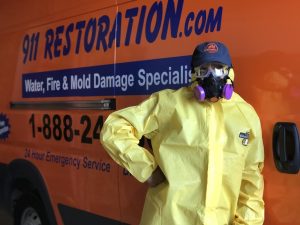 Violent crime, industrial spills, or chemical accidents happen anytime, day or night, weekday or weekend. 911 Restoration Truckee has operators ready to take your call around the clock, and our crew arrives within 45 minutes. While we wait for law enforcement to grant permission for us to clean, we make sure that you understand your rights and responsibilities as a property owner. Our representatives are happy to answer your questions and address your concerns as thoroughly as possible. 
Once we have clearance from the authorities, our first act is to conduct a free visual inspection for property owners only. Then, we immediately take action to prevent cross-contamination, dispose of biohazards, and disinfect all surfaces. Our trained team members respect that a terrible event occurred on your property. Moreover, as your neighbors, we want to help you through this ordeal with as little stress on you as possible. 
In fact, it is not uncommon for crime scene cleanups to take several hours. We might need to use extractors, dryers, and dehumidifiers to remove moisture. If necessary, 911 Restoration Truckee provides water damage restoration, mold remediation, fire and smoke damage restoration, and sewage cleanup. We are a one-stop solution for property rejuvenation, offering residential and commercial restoration services. 
Additionally, 911 Restoration Truckee relieves you of the stress and hard work of trying to clean a crime scene on your own. Depending on the circumstances, you might need to make funeral arrangements for a family member or loved one. You deserve time to mourn and prepare for the days and weeks ahead. 
If a violent crime, unexpected death, or trauma occurs on your property, call 911 Restoration Truckee. We are ready to provide exceptional crime scene cleanup for residential and commercial properties near Truckee.