Water Damage in Quincy
The climate in Quincy can create indoor water damage issues for those who own residential or commercial properties. Cold temperatures and high precipitation levels affect every month of the year. These weather patterns can lead to ceiling leaks, basement flooding, and pipe bursts. When water invades your home or business, 911 Restoration of Truckee guarantees to arrive within 45 minutes of receiving your call. Our qualified repair techs are available 24/7/365, so you never have to wait for water damage restoration in Quincy. We will start the water remediation process by giving the property owner a free visual inspection and estimate.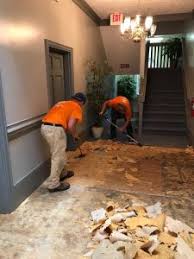 You can be sure that you are fully protected when you work with our water damage experts in Quincy, because we are licensed, bonded, and insured. We employ repair techs that are IICRC certified by the Institute of Inspection, Cleaning, and Restoration.
When you hire 911 Restoration of Truckee, you can be confident that we will completely restore your property from any water disaster. 
Fast and Reliable Restoration Services When You Need It Most
Our repair techs will get your property back up and running as quickly as possible with thorough leak and water damage services in Quincy. We will also prevent subsequent water-based issues by conducting drying and dehumidifying services.
The faster we clean up water damage to wood structures and other surfaces, the better the chances are of preventing rot and mold. Call us at (530) 422-7061 and allow us to provide you a free visual inspection.
To best serve you, we always urgently respond to all water disasters. As soon as our repair techs arrive on the scene, we will begin same-day water extraction, drying, and dehumidifying procedures. 
As a locally owned and operated company, you can be sure that the repair techs at 911 Restoration of Truckee expertly understand the specific water issues that affect Quincy. 
When you need water damage repair or flood cleanup in Quincy, call our water restoration company right away! Our technicians will give you peace of mind by showing you that a water damage emergency can be a Fresh Start!
Same-Day, Water Remediation Solutions Will Stop Mold Growth
There is no time to waste when water invades your home or business. If left unmitigated, even a small amount of water damage can lead to big problems.
Fortunately, our technicians have years of experience providing leak and flood cleanup services in the Truckee area. We know exactly what water damage restoration services you need to make a full recovery.
Our repair techs will act fast and work meticulously to locate the source of the water damage. Through drying and dehumidifying procedures, we will extract every trace of moisture.
The drying process is especially crucial during the months when you use your heating system. Even though it is cold outside, the increased indoor temperature can create condensation in walls, attics, and crawlspaces. This damp, warm environment can start a mold infestation in as little as 24 hours.
Call us at (530) 422-7061 and see how we can help you.
Emergency Mold Removal and Remediation Services in Quincy
The speed at which mold grows makes it crucial for you to contact 911 Restoration of Truckee for immediate water damage restoration.
Due to the definite connection between water damage and mold, our technicians routinely check for signs of an infestation when they remediate leak and flood damage.
You can be sure that we will locate the source of the water damage and mold to prevent future incidents from occurring. By extracting water and dehumidifying the affected area, technicians will get your property as dry as possible.
Since water can seep into walls and floorboards without ever being seen, we check all the hard-to-reach areas of your property. Through thorough examination, we will promptly remove every trace of mold.
911 Restoration of Truckee will make sure your property passes the mold clearance test. Call us as soon as you experience a leak or flood, and we will get started with schematic water damage repairs today!
Emergency Service Restoration is Only a Phone Call Away
Regardless if you own a residential or commercial property, immediate response is vital to a successful water restoration job.
The technicians at 911 Restoration of Truckee are trained to administer water damage restoration in both homes and businesses. We fluently understand the particular services each structure needs.
You can count on us to execute a water extraction and drying strategy that perfectly suits your property needs. Technicians will guide you through every step of the water remediation process.
Along with assisting you with advanced flood cleanup services, our staff will provide you with free insurance consultation. An insurance professional will go over your policy with you to help you understand your coverage. 
We'll Develop A Plan That's Right For You
Once our staff members determine what your insurance plan covers, we will directly bill your insurance provider. Onsite technicians will also help you take inventory of your losses to submit with your insurance claim.
Call us at (530) 422-7061 and learn how we can help.
Whether you need water damage restoration or mold remediation, you can expect us to recover all your losses. So, call 911 Restoration of Truckee to receive help from an IICRC-certified team that cares and understands your needs today!
Serving the communities of Floriston, Incline Village, NV, Kings Beach, Mystic, Norden, Quincy, Soda Springs, Squaw Valley, CA, Susanville, Truckee, and surrounding areas.