Water Damage in Kings Beach
Kings Beach is prone to cold weather throughout the year. Almost every month experiences freezing temperatures at some point, causing pipe bursts and water damage. With seasons filled with rainfall, snowstorms, and cold spikes, the chances of finding water damage on your property go way up. Fortunately, 911 Restoration of Truckee is open 24/7/365 to provide water damage restoration in Kings Beach. Our repair techs understand the cruciality of responding quickly to water emergencies. When you call our office, we guarantee to arrive within 45 minutes.
When you need emergency water damage repairs, you can depend on 911 Restoration of Truckee will provide you with same-day services. We will start the water remediation process by giving property owners free visual inspections.
What To Expect During Water Damage Restoration in Kings Beach
During the initial assessment, our repair techs will determine the extent of the water damage and provide you with a free estimate. We will check for leaks, flood damage, and mold, ensuring we address all aspects of the water disaster.
Rest assured that when you hire 911 Restoration of Truckee, you will receive assistance from the most capable repair workers in Kings Beach. We employ IICRC certified technicians who have been trained to conduct leak repair and flood cleanup services in residential and commercial properties.
On top of working with experienced, trained professionals, our entire water restoration company is licensed, bonded, and insured. This insurance status ensures that you are entirely protected under our care.
Call 911 Restoration of Truckee when your home or business is affected by a storm or water disaster. Our repair techs will give you the Fresh Start you deserve through advanced, affordable water damage restoration.
Preventing Mold in Walls from Water Damage with Emergency Flood Cleanup
Although summers in Kings Beach are relatively dry, they are hot and experience frequent thunderstorms. Heavy rainfall, gusty winds, and even hail are all components of a thunderstorm.
The high precipitation levels and warm temperatures combine to make the ideal environment for mold growth. Spores can grow within 24 hours of being exposed to moisture.
When you wait to receive water damage restoration, mold and mildew can begin to infest the premises. However, our technicians will act quickly to begin water damage and mold removal services. 
Our experts will conduct water extraction services to remove any floodwater that may have invaded your property. With the help of air movers and dehumidifiers, we will get rid of any lingering moisture that may contribute to a mold infestation.
We will use leak detection and infrared technology to find all the moisture spots in your home or business. Thermal imaging equipment allows our technicians to remediate water damage inside walls and underneath floorboards. 
You can count on 911 Restoration of Truckee to provide you with complete restoration services that will restore your home or business fully. Call our office to receive comprehensive flood cleanup in Kings Beach today!
A Dependable Water Damage Company You Can Trust
There are specific qualifications that you have in mind when you're searching for a restoration company that fulfills all your needs. 911 Restoration of Truckee is confident that it will surpass your expectations.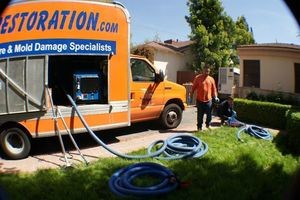 We understand the importance of prompt water restoration. No matter what time you need assistance, our technicians guarantee to stick to our strict 45-minute response time.
Water damage does not adhere to conventional business hours, which is why our office stays open around the clock. 911 Restoration is open 24/7/365, making it easy for you to reach out to us the moment you require flood cleanup services.
Not only are we fast and efficient, but our technicians are exceptionally skilled. Experience is essential to successful water damage restoration, and 911 Restoration has been in the restoration industry for decades.
Each branch is locally owned and operated. By working with technicians that have local knowledge of the issues specifically affecting Kings Beach, you can have total confidence in our restoration abilities.
We will guide you through every step of the repair process, including assisting you with your insurance claim. 911 Restoration offers free insurance consultations to anyone who needs help understanding their policy. 
By having an expert go over your insurance plan, you will fluently comprehend your coverage. Our staff will directly bill your provider and submit your claim, so you never have to worry about communicating financial information.
Call 911 Restoration of Truckee when you have any questions regarding water damage restoration. We will give you the answers you need to see how a disaster can actually be the beginning of a Fresh Start!
Serving the communities of Floriston, Incline Village, NV, Kings Beach, Mystic, Norden, Quincy, Soda Springs, Squaw Valley, CA, Susanville, Truckee, and surrounding areas.