Mold Removal Truckee
You've invested so much time and resources into making your property shine. When you discover a mold infestation, it can feel like all your best efforts have been for nothing to deal with mold remediation in Truckee. Let us assure you, your home or business can be the clean, clear refuge it once was. All you have to do is call the mold remediation specialist at 911 Restoration of Truckee.

We've been providing mold inspections and mold removal service in Truckee, Susanville, and neighboring communities for years. We understand the many worries you face when fungus invades your property. We also know what it takes to provide you with peace of mind and a Fresh Start. Our mold remediation specialist in Truckee have completed extensive training to provide you with the very best service. They are all IICRC certified and fully equipped to handle mold inspection, mold cleanup, and even repair mold damage. 911 Restoration of Truckee is licensed, insured, bonded, and locally owned and operated.
Everything we do, we do with your best interests at heart. Our technicians provide a free visual inspection for property owners so you get an idea of the scope of your problem upfront. We use the safest methods for mold decontamination to prevent the spread of dangerous mycotoxins. And our mold remediation crew dehumidifies the structure of your property to prevent a recurring infestation.
Call us at (530) 422-7061 and allow us to provide you a free visual inspection.
To the team at 911 Restoration, you're more than a customer. You're a neighbor. For comprehensive, compassionate mold cleanup, call us today.
Your Certified Mold Specialist
Many property owners wonder if they can take care of mold removal themselves. They ask about using bleach to get rid of mold. They ask if carpet steaming gets rid of an infestation.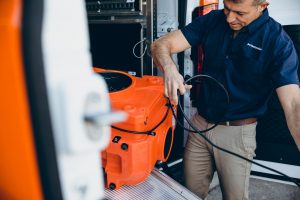 Whatever do-it-yourself mold removal method you have in mind, it won't work. Fungus is more persistent than many people realize. Even once you've completed mold cleanup, spores remain in the air, waiting for the next opportunity to land on a damp surface. And without a professional mold inspection, you have no way of knowing whether you've tackled every growth on your property.
Mold decontamination can also be dangerous. You may have heard that black mold is toxigenic and can cause health problems as serious as heart conditions. The truth is, black mold isn't the only type of fungus you should avoid. Most varieties are at least pathogenic or allergenic, which means they can cause asthma, allergies, and other disorders.
When you attempt mold cleanup personally, you put yourself in direct contact with the fungus. By scrubbing at the colony, you force the growth to release mycotoxins and other particles into the air and into your lungs. The safer option is to keep your distance and call our certified mold remediation crew right away.
Our mold specialists perform a mold inspection so you can feel confident they've eradicated every trace of mold. They use professional tools and techniques to eliminate mold safely without spreading spores and mycotoxins. Then, they dehumidify the structure of your property so there are no more damp spaces on which mold spores can land.
Do-it-yourself mold cleanup might save you a few bucks today, but it will cost you big in the long run for mold removal Truckee. Instead, reach out to us for reliable mold decontamination in Truckee, Susanville, and beyond.
Call us at (530) 422-7061 and see how we can help you.
Residential and Commercial Mold Removal in Truckee
Whether you own a home or a business, basic mold cleanup simply won't cut it for things like black mold removal in Truckee. You need comprehensive mold remediation to make sure mold damage doesn't plague your property for years to come.
Mold isn't just ugly. It's a destructive force that breaks down the structure of your property. An infestation eats away at wood, wallpaper, and glue. It contaminates your carpet and fills the air you breathe with hazardous particles. These repercussions make your house weak and contaminated. They make your business dangerous for your employees and customers. Simply getting rid of the appearance of mold is not enough.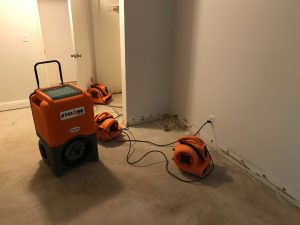 Our mold remediation experts go well beyond simple mold removal to make your property strong for the future. They remove moisture hidden deep within the core of your building to prevent dampness from rising to the surface. Mold spores are always in the air around you, which means a damp surface is always vulnerable to mold development.
Our mold decontamination experts also conduct structural testing to make sure your property still stands strong after a fungal attack. If you require any repairs, this crew can handle it. From drywall replacement to carpet removal, they do it all. By the time they leave your property, your home or business feels brand new.
Call us at (530) 422-7061 and learn how we can help.
Mold makes your property feel contaminated. But we promise, we have the tools and experience to make your home or business your own again. Call today and let us give you a Fresh Start.