Water Damage in Susanville
Despite the dry, continental climate, homes and businesses in Susanville are still susceptible to water damage. The technicians at 911 Restoration of Truckee are available 24/7/365 to conduct water damage restoration in Susanville. We guarantee to respond to any water emergency within 45 minutes of receiving your call. It doesn't matter if it's day or night, our repair techs are always ready to administer same-day leak and flood cleanup services. Our technicians will start the water remediation by providing the property owner with a free visual inspection. Through this assessment, we will formulate an estimate of the schematic water damage repairs needed to recover your property.
We have been in the restoration industry for decades. You can trust that our technicians are qualified to conduct water damage cleanup in both residential and commercial properties. On top of employing qualified, experienced professionals, our entire water damage restoration company is licensed, bonded, and insured. This insurance status guarantees that you will receive the protection you deserve.
Fast and Reliable Response When You Need It Most
Our technicians understand how quickly water damage can turn into rotten drywall or a mold infestation. The sooner we begin the water cleanup and drying services, the more successful we will be at minimizing your losses. Customers can trust that our technicians can mitigate even the most severe water disasters. Whether you need flooding cleanup or ceiling leak repairs, we've got you covered. 
As a locally owned and operated company, 911 Restoration of Truckee understands precisely what water damage restoration services the Susanville community needs. Call us when you want help from a water damage company that genuinely cares about you. Our professionals are ready to provide you with expert water remediation today!
Emergency Flood Cleanup and Drying Services After a Pipe Burst
Freezing temperatures have been reported every month of the year in Susanville. These cold spikes can cause pipes to freeze, which then leads to pipe bursts, flooding, and structural damage.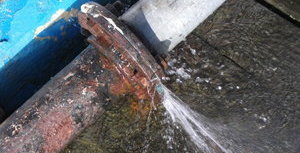 When a pipe burst occurs, our repair technicians will respond on a moment's notice. We will even help you contain the floodwater before our technicians get on the scene. 
By calling our office, a service agent will talk you through turning off your property's main water line. This process will immediately stop the water from spraying out of the broken pipes.
Once we arrive, our repair techs will begin the flooding cleanup service with emergency water extractions. By quickly removing the floodwater, we will prevent permanent water damage to wood structures, mold, and the destruction of your personal belongings.
Thorough drying services are an integral part of the water damage restoration. Even during the cold season, lingering moisture can start a mold infestation. If you use your heating system, the damp, warm indoor environment can facilitate mold growth within 24 hours.
Our professionals will use advanced driers and dehumidifiers to get your home or business as dry as possible. We also repair any water damaged drywall.
Call 911 Restoration of Truckee when you need flood cleanup in Susanville. Our repair techs will take care of every aspect of a pipe burst emergency, giving you the peace of mind you deserve.
A Restoration Company That Assists You With Every Step of the Water Cleanup
When you find yourself dealing with a water disaster, the best way to keep calm is by getting answers. Most customers have questions about service rates and insurance.
Once our technicians complete the initial inspection, we will understand the extent of the water damage and the repair services needed. This information will allow us to provide you with an estimate.
911 Restoration of Truckee prides itself on keeping its prices both competitive and affordable. We also accept insurance and are committed to keeping your out-of-pocket expenses low.
If you need assistance filing your insurance claim, we will provide you with a free insurance consultation. By having a professional go over your policy, you will understand the coverage you are entitled to receive.
We're Here To Help During Water Damage Restoration in Susanville
Our technicians will help you take inventory of the damage to property and belongings. You will have the best opportunity to obtain full coverage by submitting an itemized list of your losses to your insurance provider.
Our repair techs will do whatever is necessary to keep your losses to a minimum. To keep your belongings safe during the water damage restoration, we will conduct the pack-out and storage services.
You can depend on us to help you with everything involved in the restoration process. So, call 911 Restoration of Truckee when you need complete water cleanup services. We are sure to give you the Fresh Start you deserve today!
Serving the communities of Floriston, Incline Village, NV, Kings Beach, Mystic, Norden, Quincy, Soda Springs, Squaw Valley, CA, Susanville, Truckee, and surrounding areas.