Sanitization and Disinfection Services in Truckee
The coronavirus has spread so rapidly, many people are still struggling to keep up with shifting information and changing guidelines. Property owners especially feel the burden of sanitization standards at this time. If you're feeling overwhelmed, we're here to help. 911 Restoration of Truckee seeks to be a resource for our local community. You can always turn to us for clarity and assistance with disinfection issues.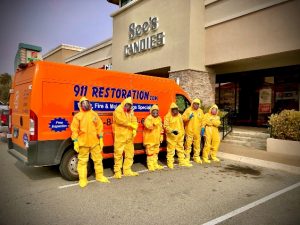 Follow the Centers for Disease Control and World Health Organization for updates and new research. In the meantime, make sure you understand the nature of this pandemic.
Call us at (530) 422-7061 and see how we can help you.
Coronavirus spreads rapidly for several different reasons. The virus is extremely resilient and can live on certain surfaces for as many as five days. It is also highly contagious. Even asymptomatic carriers can spread coronavirus to others. To make matters even more complicated, those who have been exposed to the virus do not experience symptoms right away. It can take 2-14 days for the signs of infection to show up. This is why social distancing, hand washing, and property disinfection are so essential at this time. It is not enough to exercise caution based on whether we feel healthy or ill. Anyone can have coronavirus without realizing it. The Truckee office is open 24/7/365 at (530) 422-7061.
If you do exhibit symptoms such as a cough, shortness of breath, or fever, do not panic. Call your doctor for advice and isolate yourself immediately. Most individuals who contract the illness do recover. But coronavirus can be fatal for our neighbors who are over the age of 60 or are immunocompromised.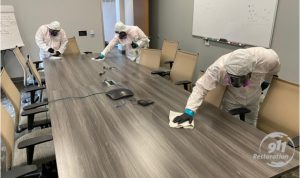 This is why it's so important to regularly disinfect your property, especially if you own an office, retail store, or any other commercial facility. You have no way of knowing whether your guests or staff bring coronavirus into your space unknowingly. You also don't know who among your staff or customers might be immunocompromised or live with an elderly family member. For the sake of everyone's best interest, sanitize and deep cleaning as often as you can.
And remember that 911 Restoration is here to help. We provide covid 19 cleaning services in Truckee and throughout the wider region. Our expert technicians are trained to follow the CDC and EPA guidelines for your peace of mind. From office deep cleaning to residential disinfection, they are thorough and meet your high standards. Above all, our team is compassionate. They understand your concerns at this difficult time, and they work hard to provide clarity and reassurance.
Call us at (530) 422-7061 and learn how we can help.
We do not know exactly what life will look like after this pandemic, but we do know we can look forward to a Fresh Start. In the meantime, let's do the best we can for each other as a community. And if you could use disinfection services, please call 911 Restoration of Truckee.